Project Learn to Read by Krishworks Technology and Research Labs Pvt Ltd in Collaboration with IndusNet Foundation and Karimpur Girls High School, Nadia, West Bengal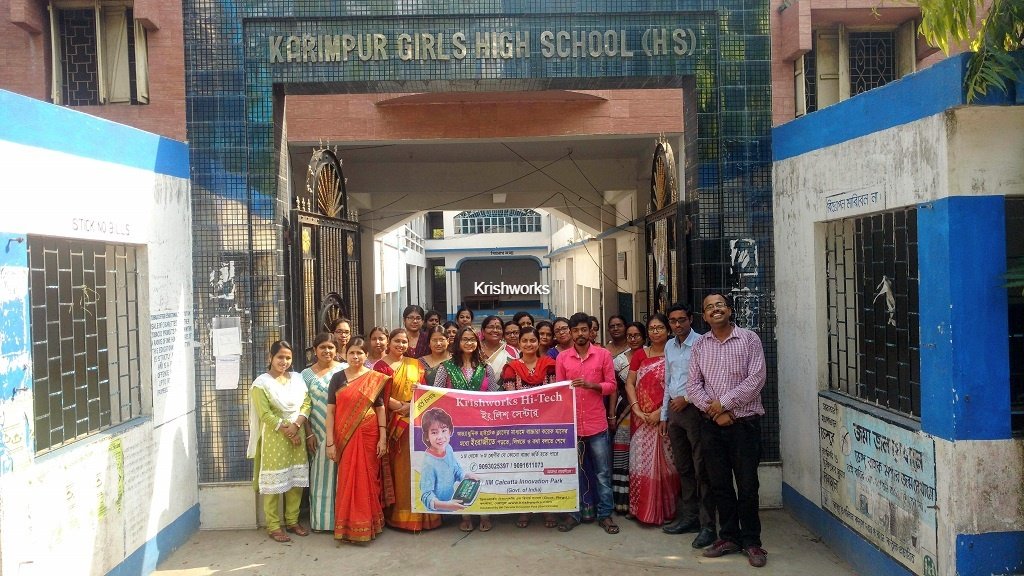 Imagine an institute in a remote village where students are assigned a text on Julius Caesar for their board exam assignment and they are stuck with comprehending. What do they do?
Can they walk up to their library to look for guide books and Wikipedia to extract the meanings, or where they are able to navigate 'Hey Google' feature and look up their queries.
How wonderful is that going to be!
Project Learn To Read was Launched with this Very Dream
Our aim is to uplift the reading levels of children and students living in rural Bengal and to make them smart, confident and independent individuals. We believe there will be a day when students across rural India will have Library membership, they will be able to look up words in the dictionary or Google and get their work done.To realize this dream Indus Net Foundation and Krishworks launched the Project Learn To Read at Karimpur Girls High School, Nadia with the sole aim to impact 539 Girl Students of Class 5 & 6.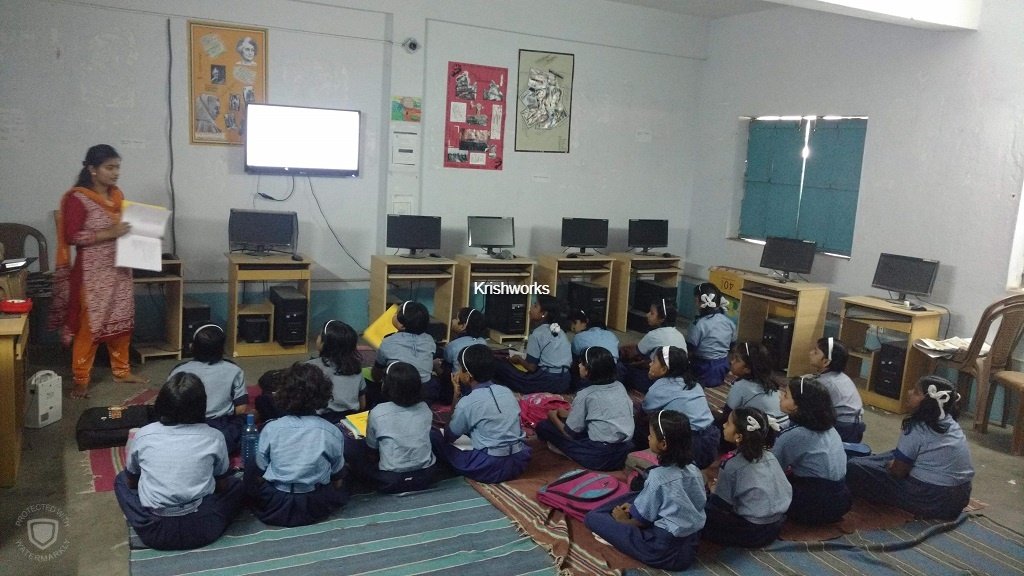 Since this school had a  high student to teacher ratio, we recruited 5 new local teachers for our project. There were 3 sections in class 5 and 2 sections in class 6. We divided each section of class 5 into 3 batches and each section of class 6 in to 4 batches resulting in a total of 17 batches. These 17 batches were to be catered to by these newly recruited local teachers.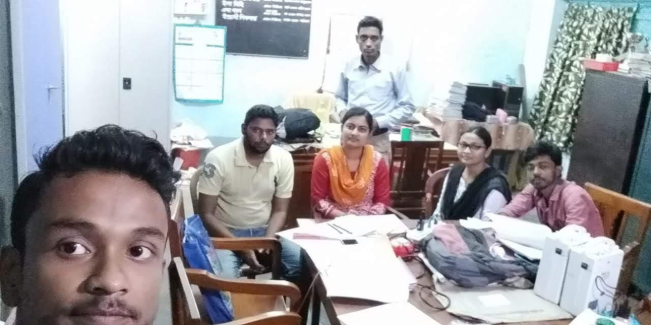 The group of teachers involved in the Project Learn To Read
Students of classes 5 & 6 were made to undergo an "English Level Diagnosis" test to baseline their levels initially. Once that was done we graded them according to their levels.
The students were graded to the following levels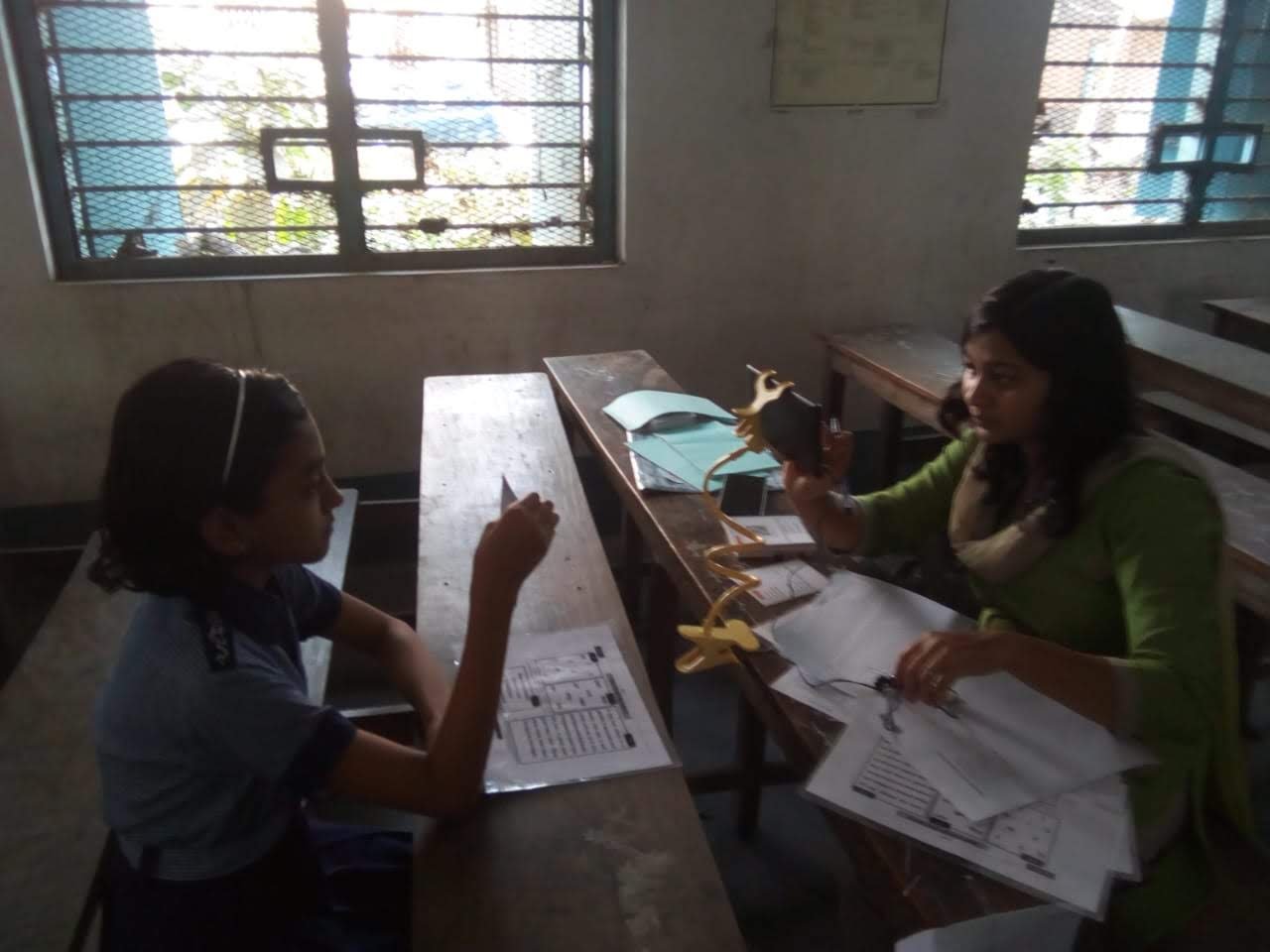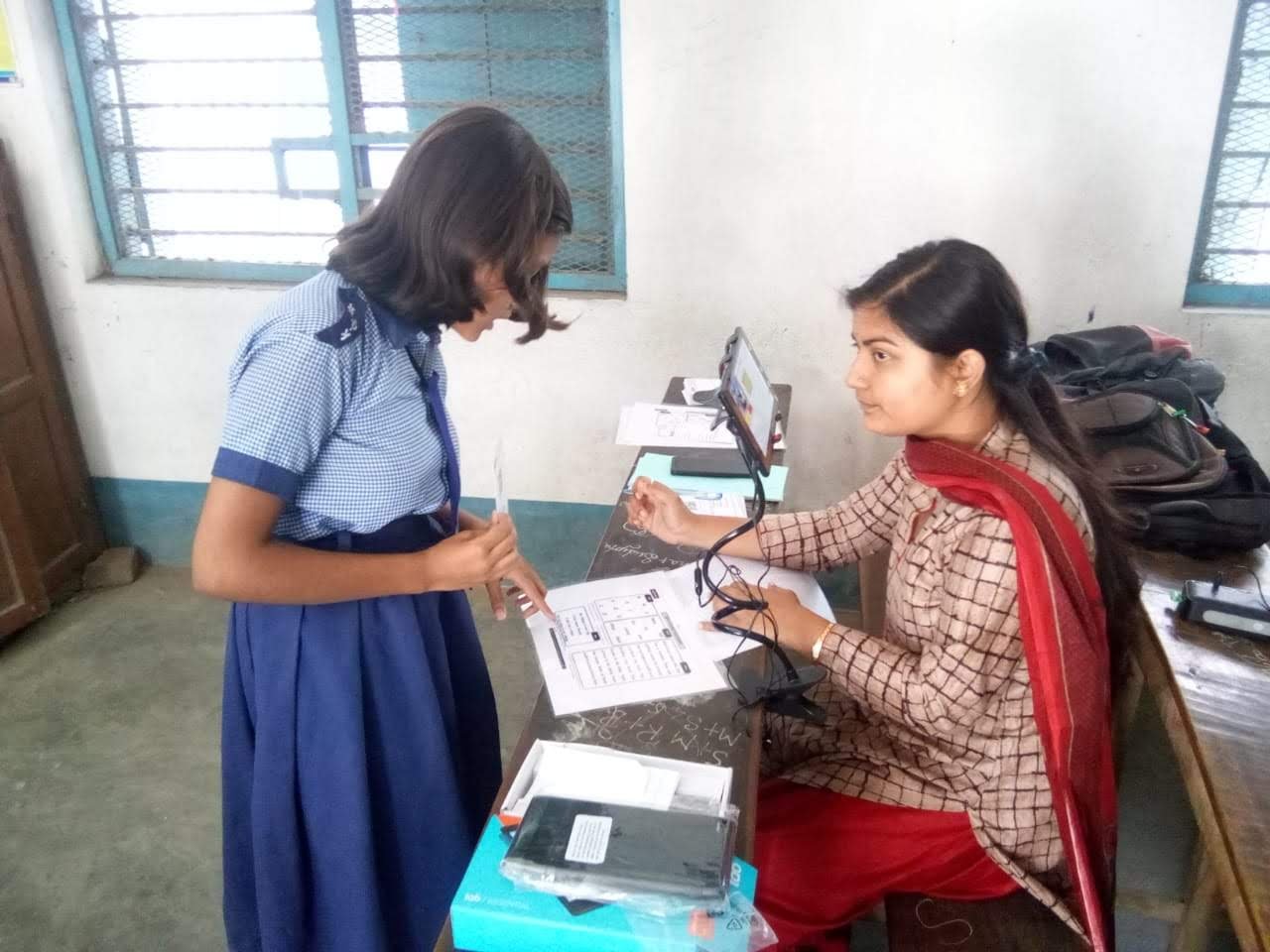 Teachers at Karimpur Girls High School Conducting English Level Diagnosis Test for the students. The setup involves a test sheet, a mobile/tablet along with a stand.
The village of Karimpur is a few kilometers from Bangladesh Border, it doesn't have much of Christian Missionary schools etc so the local teachers are not expected to be well versed with the Latest English International Curriculum that we would ask to them teach. They needed training, training for the digital classroom that they were to use, a training on soft skills, a training on the curriculum and training to help them cater to every type of student that is present in the classroom. The teachers were trained initially for 1 month. The training was imparted by means of both online and offline medium.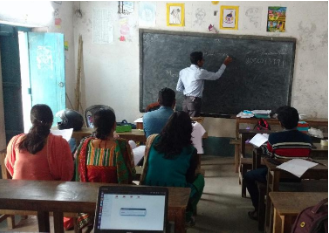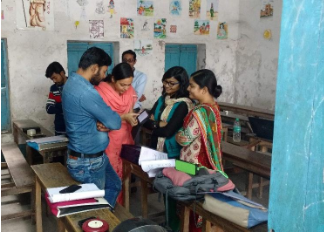 Teacher Training at Karimpur Girls High School
Starting off with the Classes
Once the "English Level Diagnosis" Test was conducted on all students, they were grouped based on their reading levels and the "English Activity classes" started.
Krishworks team visited Karimpur whenever needed to manage and solve the issues faced by the principal and the teachers.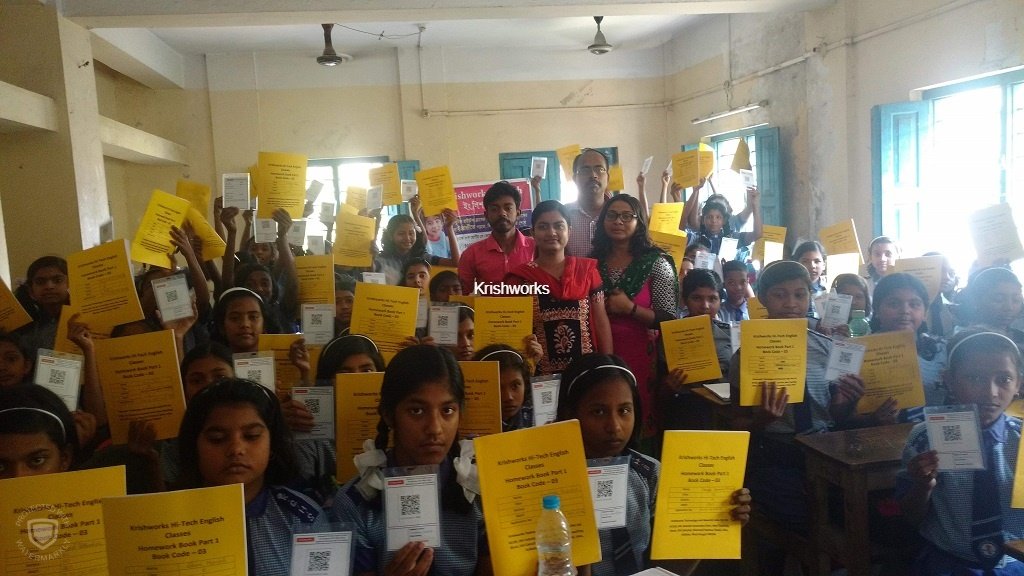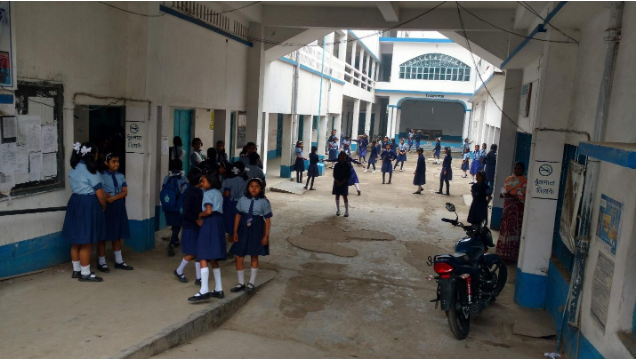 For any government school, management is an issue. Following are the daily chores of the teachers working under Learn <to> Read Project:
If you look at the above picture you will see that Karimpur Girls School is quite a sizeable school. The 3 storied building has classes on all 3 floors. Classes are of 40 minutes each. Since we have divided each section into 3 batches for class 5 and 4 for class 6; there is loss of valuable time as students moved from one room to another in between periods. Initially the allotted rooms were poles apart which created further problems.

There are around 539 students being impacted; books had to be distributed to all of them. Students have irregular attendance habits as a result it got very difficult to distribute the books on a single day and students kept coming asking for the books which was very tiresome for the teachers.

Krishworks system has a very strict system, teachers have to submit regular video assignments before conducting their classes; which got difficult for teachers as there are other works like checking homework, taking weekly tests etc.
There were more such challenges and we had to cater to all of them, In order to solve this, we designed a "Gamified" approach, a system to help the teachers develop problem solving capabilities for themselves and not be dependent on us. 
We made a system of 'In charge of the month' for teachers wherein each teacher is made to monitor others for a month or two. That particular teacher is our Point of Contact for all sorts of communications. The teachers are assigned scores based on their monthly performance.
We have planned for a "Teacher Of The Year" award.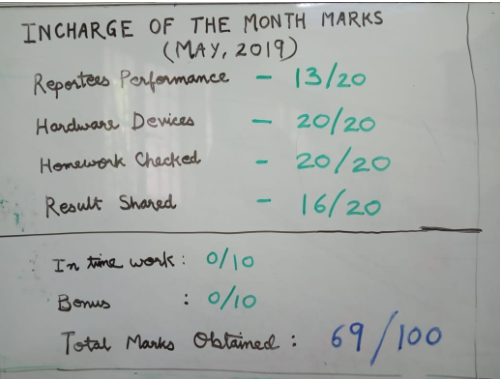 Krishworks Hi-Tech English Activity Classes: Create a healthy learning circle for teachers
Our objective has always been to create a sustainable system. The heroes of our system are the last mile implementers i.e the teachers. It is important to be sure that they are willing, they are motivated, they are passionate and they are trained well to execute the tasks.
Teachers are still in the process of training and sending us practice videos for various events. The self-recorded videos have not only made them confident, but has also improved their classes. They have peer review sessions and they are growing together.
Ours is a sound and activity based pedagogy of learning. Here students get to play and participate in group activities, language drills, audio-visuals for lessons, chain activities and role-plays .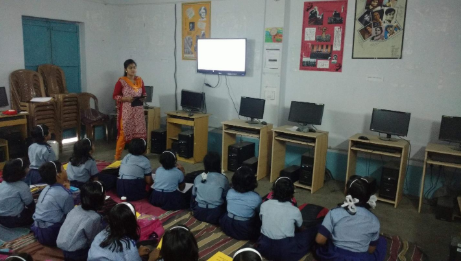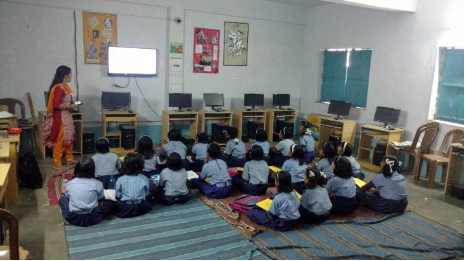 Rewards: Just like the curriculum, the performance badges for students are designed as: the most promising, most regular, loudest and smartest, one who raises hand the most, the happiest student etc.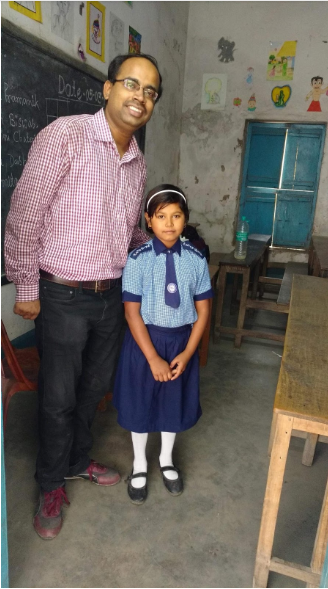 All these interventions have not only provided a happy environment but has also increased their interest in learning. We are growing together as one big happy family.
What have we learnt and observed
Sadly our country still has 1st generation learners. Many students in government schools do not go to school regularly. Whether or not you pass or fail, you are promoted to the next class. This means that even if you don't know how to write your name you are in the next class if you are of the right age. This has led to some of our students not even knowing even Bengali alphabets and numbers.We observed that attendance is directly proportional to performance. The students (and the parents) who do not come to school regularly lack awareness. These students are the ones who are performing poorly. They are usually first-generation learners who don't know how to read and write the alphabet and numbers (both English and Bengali).
We are helping 3 sectors of society- the teachers, the students and parents to learn and grow together. Ours is a playground type system. Here we encourage and make the students and teachers confident. We inculcate values. Students learn to work and solve problems in groups. We believe every child has a right to entertainment despite the privileges. Because of the fact that our classroom is filled with fun we believe our class attendance will improve. All we need to do is run awareness campaigns and keep a measure of what all are being done. 
We are solving Literacy problem through English.
What is the impact so far ?
Students are now communicative.The students who were very shy to speak up are gradually overcoming their hesitation. They now readily take part in short activities. 
Student are gradually learning to overcome stage fear and performance pressure.
Teachers who were earlier nervous about this course have now taken ownership of the work and are happy that they too are getting to learn a lot.
Parents are delighted to have this project running in the school and they want this project to continue.
Class Performance: Assessment
Our diagnostic assessment (before and after exams) says around 50% of the students now have increase in their marks. Few of the students have also got 100% marks.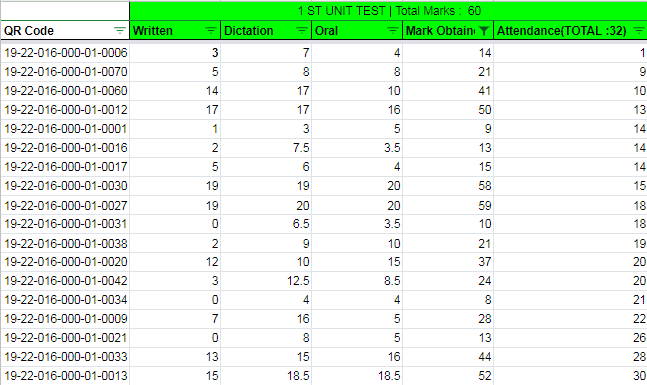 We have a long way to go and work and solve many other problems. Our biggest motivation is our students' excitement about this new approach to learning. We have provided a happy environment for Government Girls School Karimpur students. We wish to replicate this project in many other such schools and provide a happy playground in those schools too. 
When you share your joys, it multiplies. Help us, help them.
We are planning an awareness program for the parents who do not send their children regularly to school. If needed, we will stay in Karimpur for a week to meet and talk to parents as it is difficult to reach them over the phone. With regards to this we are organising the first Parents-Teacher meet cum workshop on 26th August 2019, Monday. Few students will be participating in this meet up showcasing what they have learnt till now. We will also be organising a short class for the parents where parents will get to feel what it is like to be in our classroom. 

Extra classes will be arranged for students who do not identify alphabets and students with poor attendance. We believe that we will be able to solve the illiteracy problem and will be able to bring up the level of these students from letter level to early paragraph level in the next few months, (if they attend our classes regularly).

Small events will be arranged for confidence building of students and for community engagement.