Krishworks Hi-Tech English Playground is an initiative of Krishworks Technology and Research Labs Pvt Ltd(a government registered company), founded by highly experienced engineers who had previously worked in many multinational companies and with the government.

Krishworks runs English Literacy Programs for helping kids in rural areas to read, write and communicate in English by training local teachers and supporting them with technology.
Krishworks is incubated by Indian Institute of Management Calcutta Innovation Park which is a Section 8 not for profit under IIM Calcutta (a government organization); Supported by Indian Institute of Management, Ahmedabad(a government organization), Social Alpha Tata Trusts and Indian School Of Business, Hyderabad.

Krishworks Teacher Training Program upskills teachers by means of a series of training programs, activities and assessments.
Irrespective of their qualification they are trained to have better communication skills and become acquainted to easily use digital and electronic media for conducting their classes.
The training program benefits the teachers in not only conducting effective English Classes but other subjects as well.
Krishworks mentors teachers throughout the year, the teachers are expected to share their lesson plans and class feedback on a weekly basis.
The classes conducted by these trained teachers are very lively and energetic, they are trained to provide individual attention to every student of their class.
The minimum qualification needed to be a Krishworks Certified Teacher is Bachelor\'s Degree in any stream.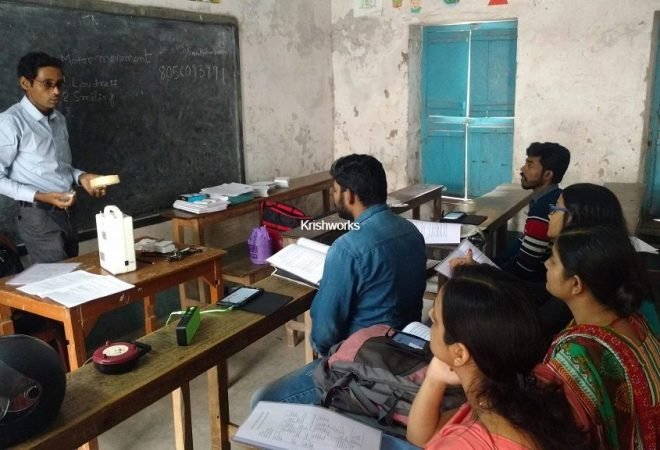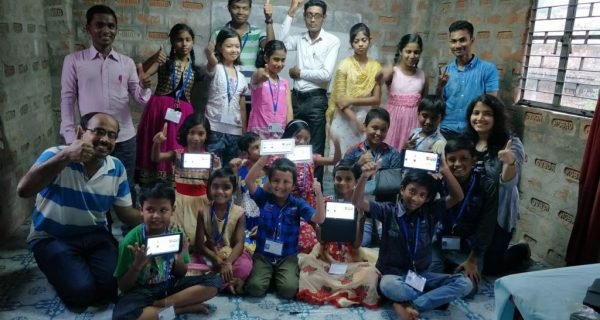 Krishworks Hi-Tech English Classes are activity based. Students play to learn, they take part in various activities, role plays, interactions etc to achieve language learning.
They become happy and confident enough to even perform on stage within a span of few months.
They learn to read stories and comprehend passages by means of various group activities. 
The unique Techie Teacher application designed by Krishworks are used by teachers and students in their classes.
The application is loaded with highly engaging and interactive audio/video resources.
Teachers are requested to send daily class videos by means of this

Techie Teacher application.

Daily classroom chores such as Attendance etc have been automated by this application.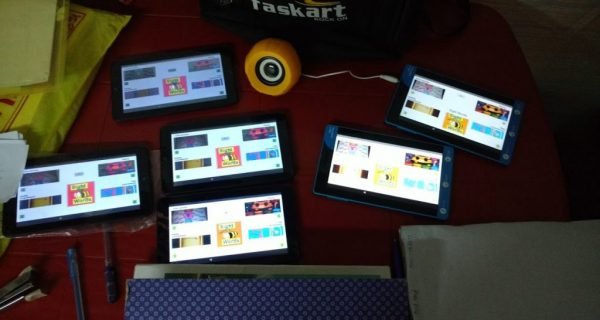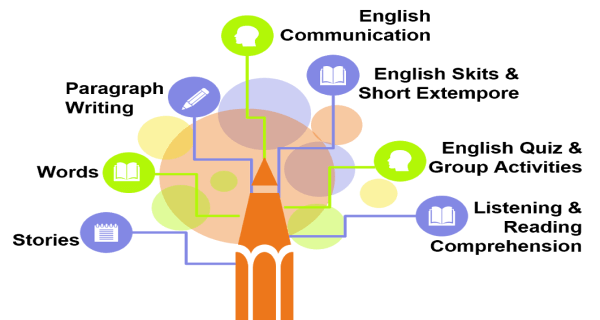 Krishworks Hi-Tech English Classes use a highly researched curriculum and game based pedagogy.
The classes are designed in a way that every lesson/module is activity based which makes the classes fun and interesting.
Shy students, 1st generation learners and students receiving no help from their homes take keen interest in these classes than for any other subject; they learn, enjoy and improve within a short span of time.
The curriculum is inspired from ESL, EFL and USAID materials.
Krishworks Hi-Tech English Classes can be hosted anywhere. The minimum hardware requirements for the same are :
2 Android devices (Mobile/Tablet)

Wifi Router 

Portable PA Speaker System

TV/Projector (optional : needed for large classes)

Miracast Dongle (for connecting android device with TV/Projector)

An educated youth as teacher.